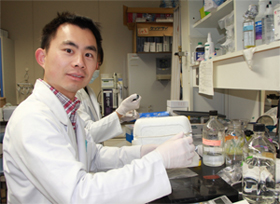 After finishing my M.D course in China, I had the opportunity to come to Japan for a Ph.D course. When I was in China, my major is Ophthalmology, so I decided to continue my research life for visual science.
I came to Japan in Oct.2, 2012. When I arrived in the airport, I felt the curiousness, but as the night befell, I felt something like solitude.
The next day when I went to the hospital to visit my professor and other colleagues, in fact I was anxious and fearful. But thankfully, professor Terasaki and all the other people in our department showed there kindness to me, which calmed me down in the end.
Then time flies, I have been in Nagoya for 5 months. In these months, step by step, I have seen some patients and surgeries in the clinic. And above all, I have started my research work in our laboratory. Before coming to Nagoya University, I had no so much knowledge about the lab work, so I have to learn the skills from the beginning. Although I am not intelligent enough to learn quickly, all the staffs in our lab are so kind to teach me. Now little by little, I have mastered some skills for doing as well as for thinking.
Now all the things are just started. I have to pay more efforts for the researches to get some achievements. I will thank all the colleagues for their kind help. I feel honor to work with you all!